Wedding Cakes • Cupcakes • Small Desserts
Congratulations
On Your Big Day!
Weddings are so fun and so joyous! At the center of the festivities, of course, is your wedding cake. Whether it be a classic tower of elegant sugared floral design, a colorful stack of fun-filled cupcakes, a more causal confectionery concoction for two or a decadent chocolate cake for a groom, we do it all. Please click one of the links below for more information!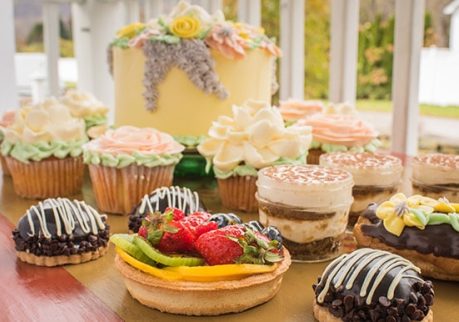 Pricing: $7-$14 per person
8" Cutting Cakes Available 
We offer a wide variety of cakes and desserts for weddings. If you don't see it here or have any questions, please don't hesitate to call or email us.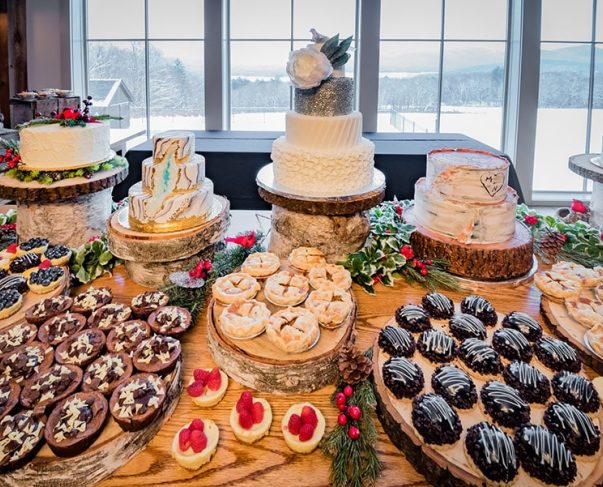 Small Pastries &



Dessert Buffets
 Minimum Order is 2 Dozen Per Flavor Ordered
Minimum is 1 dozen When Adding Gluten Free or Vegan Items to an Order. Special dietary needs can be met with advance notice. Some of our items are not available on short notice.   
Minimum Orders May Apply
$250 Mid-Week • $400 Friday – Sunday  
Dessert Buffet Set-Up Fees May Apply
$50 Mid-Week • $100 Friday & Sunday • $150 Saturday
Wedding FAQ
Hopefully, this helps answer some of your questions about your wedding cake and our services. Please don't hesitate to call or email with any additional questions you may have. 
1. How does a tasting work?
Tastings normally consist of 3 different cake flavors or small dessert flavors that the bride selects. Of course, if there are additional items that would like to be sampled, we will certainly try to accommodate. 


2. How long does a tasting normally last?
Tastings can last anywhere from 15 minutes to an hour. 
3. What does a tasting cost?
Tastings cost $25. If the order is placed with us, that amount will be credited to the cake and/or dessert buffet order.
4. Cake Sizing
6" round feeds 10 people
8" round feeds 28 people
10" round feeds 42 people
12" round feeds 56 people
14" round feeds 82 people 
A tiered 6" + 8" would feed 38 people
A tiered 6"+ 8" + 10" cake would feed 80 people
A tiered 6" + 8" + 10" + 12" would feed 136 people 
5. How many desserts or cake servings do I need?
It depends on the style of cake service.If it is buffet service, you would not need enough to offer every person. Perhaps 80-90% of the people attending.If it is served individually to guests, you would need one piece for each guest in attendance. Of course, not all guests eat cake.For small desserts and dessert buffets, we recommend 1 ½ per person. Some people will eat 2 and some people will have none.Extra cake and desserts can be served at the late night party, the following day for brunch or boxed up for the future.


6. How am I billed?
Weddings that are held at Mountain Top Inn will be billed through Mountain Top Inn.Others are paid upon delivery.


7. Is there a contract that is signed to hold my order?
We do not have contracts unless it is requested. We would be happy to provide one. 


8. Do you offer Gluten Free options?
Yes, we can create Gluten Free cakes.If you request one tier of a cake to be Gluten Free we can do that; however, that does not accommodate for Celiac Disease, only dietary restrictions.There is no additional cost. 


9. Do you accommodate other dietary restrictions?
Maybe. Beyond Gluten Free it is best to speak with us directly.